Manage your unit trust investments your way with HSBC EZInvest
EZInvest is a platform in our HSBC Malaysia Mobile Banking app that allows you to diversify your unit trust investments easily and conveniently, without any third party involvement.
This means having control over your portfolio and seamless flexibility on your unit trust placements - even when you're on the go.
Convenient and affordable

In just 5 steps, you can start investing from as low as RM1,000.

Get global access

Get access to selected Shariah-compliant funds with different risk levels which are well diversified across local, Asia and global regions. View more details.

Review and monitor your portfolio 24/7

You get a daily updated view of the performance of your portfolio. And, to assist you towards achieving your investment goals, EZInvest provides a quick shortcut so you can buy more or sell with just a tap.

Your security, our priority

With multi-layer log on verification, your financial information is protected through a combination of a unique username and password or a one-time security code generated by your Mobile Secure Key.
Want to invest? It's easier than you may think
To start investing with EZInvest, you need to have an HSBC Amanah Unit Trust Investment account.

Watch how easy is it to start investing with EZInvest
New to HSBC?
Start your investing journey by opening an account with HSBC Amanah.
HSBC Amanah Everyday Global Account-i
Save, spend and transact in 11 currencies with 1 account.
Existing HSBC Amanah customers
(without an HSBC Amanah Unit Trust Investment account)
Open an account remotely - call us or visit your nearest branch.
Existing HSBC Amanah customers
(with an HSBC Amanah Unit Trust Investment account)
Download or update your HSBC Malaysia Mobile Banking app to start investing today!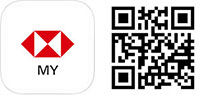 Additional resources to guide you start investing
Lump sum amount vs monthly investment plans
Frequently asked questions
The usage of EZInvest (app) is governed by the HSBC Bank Terms and Conditions for Online and Mobile Banking, End User License Agreement, and Important Notes available in the HSBC Malaysia Mobile Banking app. In order to perform transaction in this app, a sole Unit Trust investment account needs to firstly be opened. Please visit HSBC Amanah branch or contact us by phone to open a Unit Trust investment account to perform transaction on this app. The services provided through this app involve no recommendation of, or advice on, any product from us. All transactions that you enter into through this app are conducted on an execution-only basis and based on your own judgement. The list of Shariah-Compliant Unit Trust funds provided through this app is not reflective of the full fund list offered by HSBC Amanah via the branch channel. If you're looking for the full list of Shariah-Compliant Unit Trust funds, you may visit our HSBC Amanah website or our branch for more information. The scope of available transactions are lump sum investment, Monthly Investment Plan (MIP) and redemption. To perform switching, transfer or exercise of cooling-off right in relation to Shariah-Compliant unit trusts, please visit the nearest HSBC Amanah branches. If you would like to enquire of such procedure, please contact HSBC Amanah Malaysia via the channels specified in https://www.hsbcamanah.com.my/contact/. Unit trust schemes and units in such schemes are not protected by Perbadanan Insurans Deposit Malaysia ("PIDM"); and any money withdrawn from an insured deposit for the purpose of purchasing any units in a unit trust scheme is no longer protected by PIDM.

Unit Trusts are investment products and some may involve derivatives. The value of investments, unit prices and income distribution may go down or up, and the investor may not get back the original sum invested. Past performance of a fund should not be taken as indicative of its future performance. In a worst case scenario, the value of fund may worth substantially less than the original amount you have invested and in an extreme case could be worth nothing.
The investment returns, repayment of capital and distribution payouts are not guaranteed. Investors and potential investors must not solely rely on the content in this website to make investment decisions. Investors are advised to read carefully and understand the contents of prospectus and consider the general risk factors associated with investing in unit trusts in addition to other specific risks uniquely associated with the fund. All risk factors are set out in the relevant prospectus for the fund.
Footnotes:
*HSBC Amanah Online Unit Trusts Acquisition Promotion 2022 Terms & Conditions apply. Promotion period: 1 May 2022 to 31 July 2022.
1HSBC Amanah EZInvest Q1 2022 Promotion Terms and Conditions apply. Promotion period: 3 January 2022 to 31 March 2022. This Promotion is open to existing HSBC Amanah customers who have active unit trust investment account(s) during the Promotion Period and subscribe into any Shariah-compliant unit trust funds distributed by HSBC Amanah via the EZInvest module in the HSBC Malaysia mobile banking app (referred to as "EZInvest"). This material has not been reviewed by the Securities Commission Malaysia (SC).