RM100 Cash Reward can be yours!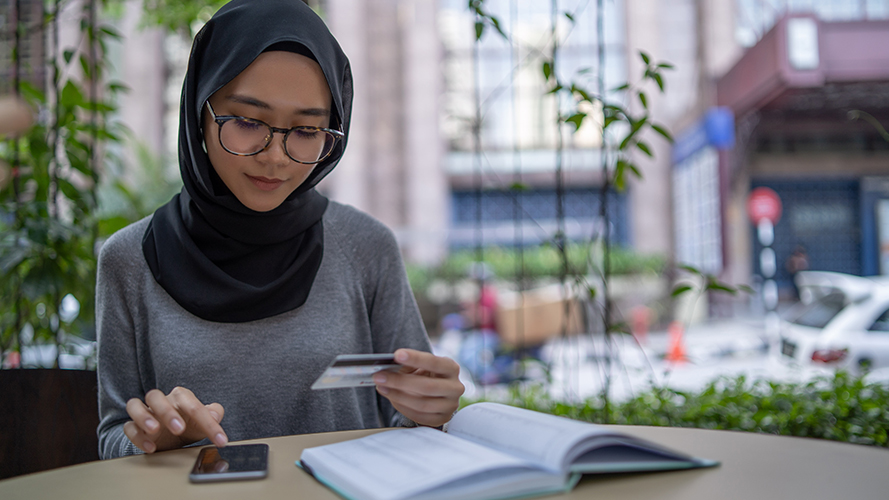 Enjoy a RM100 cash reward when you transact with your new HSBC Amanah Everyday Global Account-i between 1st March 2023 till 30th June 2023.
Just follow these simple steps:
Apply for an account online here and complete your account opening application.
Download the HSBC Malaysia App, register and log in to your online banking account.
Perform 5 Eligible Transactions1 (Debit Card Spend, Bill Payment, DuitNow pay-to-account, or JomPay) of minimum RM20 within 30 days of account opening.
Get your RM100 cash reward1 deposited to your new account.
Important notes:
1Applicable for New to HSBC customers only. HSBC Amanah Digital Account Opening Rewards Campaign Terms and Conditions apply.
Experience everyday convenience no matter where you are
Enjoy borderless convenience for you and your loved ones this festive season with HSBC Amanah Everyday Global Account-i. The all-in-one bank account for your everyday needs here in Malaysia and overseas.
With up to 11 currencies all in one account-i, for you and your loved ones' everyday needs anytime, anywhere.
An everyday account for everyday rewards, every step of the way.
Enjoy outstanding value with the HSBC Amanah Everyday Global Account-i
1
, your global all in one bank account in your pocket that's ideal for:
Unlock everyday rewards and enjoy more savings

Pay bills, deposit & transfer your salary with the convenience of a single account with zero account fees

Buy, save, transfer and spend in 11 currencies including RM

Flexibility to pay like a local in the 11 currencies with no hidden fees

2
How your Everyday Global Account-i can help you in every way
Additional benefits at your fingertips
Open a new bank account online with us in just 3 simple steps.

Leave us your contact details and we will be in touch with you.

For foreigners in Malaysia, please leave your contact details and we will be in touch with you.

For new customers, it only takes 3 steps to apply for an account online
Select your account and apply
For better browsing experience, please access via latest version of Chrome and Safari.

HSBC Amanah Everyday Global Account-i
No minimum balance requirement
HSBC Amanah Advance Everyday Global Account-i
Min Total Relationship Balance of RM30,000 or sign up for an HSBC Amanah Home Financing of RM300,000 and above
HSBC Amanah Premier Everyday Global Account-i
Total Relationship Balance5 of at least RM200,000
Frequently asked questions
Important notes:
HSBC Amanah Malaysia Berhad 200801006421 (807705-X). Member of Perbadanan Insurans Deposit Malaysia.

1Protected by Perbadanan Insurans Deposit Malaysia up to RM250,000 for each depositor. The supported Foreign Currency Accounts will be opened automatically by the following working day.

2Applicable to successful retail purchases, online shopping and cash withdrawals performed with Visa Debit Card-i under the supported currencies only. For supported currencies: If you do not have sufficient foreign currency to complete a transaction, we will convert at prevailing rate as determined by the bank and bill you in Ringgit Malaysia. For unsupported currencies: The entire transaction amount shall be converted at a prevailing rate as determined by Visa International and billed to you in Ringgit Malaysia, except for cash withdrawals performed via HSBC Group ATMs (GATS) which the withdrawn amount will be automatically converted to Ringgit Malaysia at the prevailing rate as determined by the bank.
3For HSBC Amanah Premier or HSBC Amanah Advance customers only. Subject to destination country/region's local regulation and HSBC internal policy requirement. HSBC Amanah Premier and HSBC Amanah Advance customers enjoy zero transfer fees. Instant foreign currency to foreign currency exchange transfer is available 24 hours 7 days. Transfer involving Ringgit Malaysia is from Monday to Friday 9.30am to 3pm. If you perform any transfer outside those hours, the actual amount to be debited will be based on the next business day's exchange rate.
4First 12-month Advance fee waived. Subsequently, customers who meet the minimum total spend of RM10,000 per annum on their HSBC Amanah Credit Card-i will have the monthly Advance fee waived. If you fail to meet the qualification criteria, your account will be downgraded to an HSBC Amanah Basic Current Account-i. Spend includes internet transactions, local and overseas retail transactions, cash advance, Balance Transfer, Cash Instalment Plan, standing instructions/auto-billing.

5Total Relationship Balance includes any: Deposits in Current Account/-i, Savings Account/-i, Time Deposits, Term Deposits-i, and/ or investments in Unit Trust Funds/ Shariah-compliant Unit Trust funds, Structured Investments/-i, Dual Currency Investments/-i and/or Direct Retail bond, and/or Cash value from Family Takaful/Life Insurance products with Investment-linked and savings components.
6Account Fee waiver until full and final settlement of home financing.
7Account fee waiver as long as you fulfil the qualification criteria.