Pace your payments, your way
Buy what you want with greater flexibility and financial peace of mind. Spread your payments out to between 3 and 36 months with your eligible HSBC Amanah Visa credit card-i at participating online stores*.
Card it. Split it.
0% management fee

Pay as much as you would have paid in cash. Nothing more.

Instalment plans of up to 36 months

Choose your payment term (between 3 and 36 months) according to your needs.

Online purchases from RM300

For all your purchases, large or small (up to your available limit).
Quick and easy

Choose your instalment plan instantly, with no additional costs.

Shop at a wide variety of participating online stores
Start your instalment plan in 3 simple steps
Step 1

Visit a participating online website or app.
Step 2

Add items to your cart and check out.
Step 3

Select Visa instalment plan as your payment option, choose your payment term (in months), and pay with your HSBC Amanah Visa credit card-i.
Your HSBC Amanah Visa 0% card instalment plan can be used at these online stores
Don't have an HSBC Amanah Visa credit card-i yet?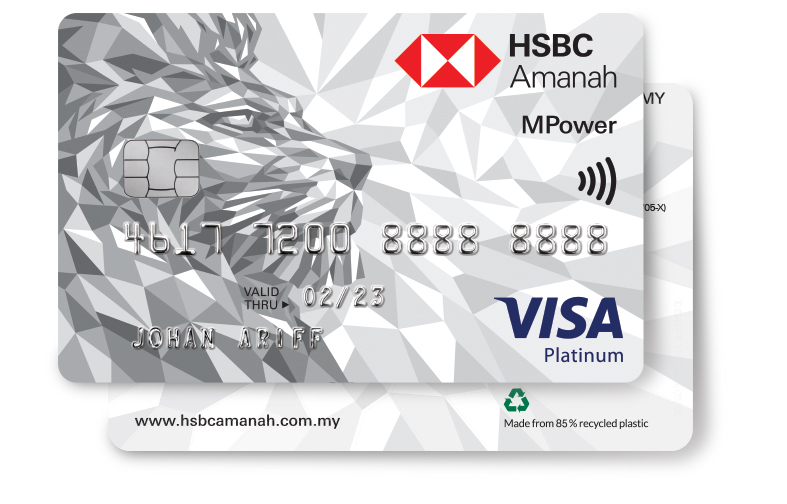 HSBC Amanah MPower Platinum Credit Card-i
Get up to 8% Cash Back on eWallet, groceries and petrol spend

Get 0.2% Cash Back on other spend

1% contribution on charity spend

Made from 85% recycled plastic
Eligibility
Primary cardholders must be at least 21 years old with a minimum annual income of RM36,000.
Issued by Issued by HSBC Amanah Malaysia Berhad (Company No 200801006421 (807705-X).
*Terms and conditions for HSBC Amanah Card Instalment Plan apply. To avoid management fees being imposed, all cardholders who have subscribed to a 'zero-management fee/management fee-free' monthly payment plan(s), are required to make payment of the monthly instalment specified by the bank at the time the Instalment Payment Plan is entered into ("the Monthly Instalment") in full. In the event a cardholder opts to only pay the minimum amount of five percent (5%) of the balance remaining unpaid under the Instalment Payment Plan or Ringgit Malaysia Fifty (RM50), whichever is higher, instead of the Monthly Instalment in full, the cardholder will be liable for the applicable management fees.