How can businesses adapt and bounce back
It's no exaggeration to say that COVID-19 – and all the variations of the movement control order (MCO) – has pummeled the finances of many businesses in Malaysia. Particularly affected are the small and medium-sized enterprises (SMEs) and micro SMEs (MSMEs), together considered to be the backbone of the economy as they make up 99% of the nation's business establishments.1
Despite the severity of the situation, however, it is possible for these businesses to bounce back. Here, we'll look at a few aspects that Malaysian enterprises need to consider in order to recover from this slump: business model, business digitalisation, and finances.
Keep the model updated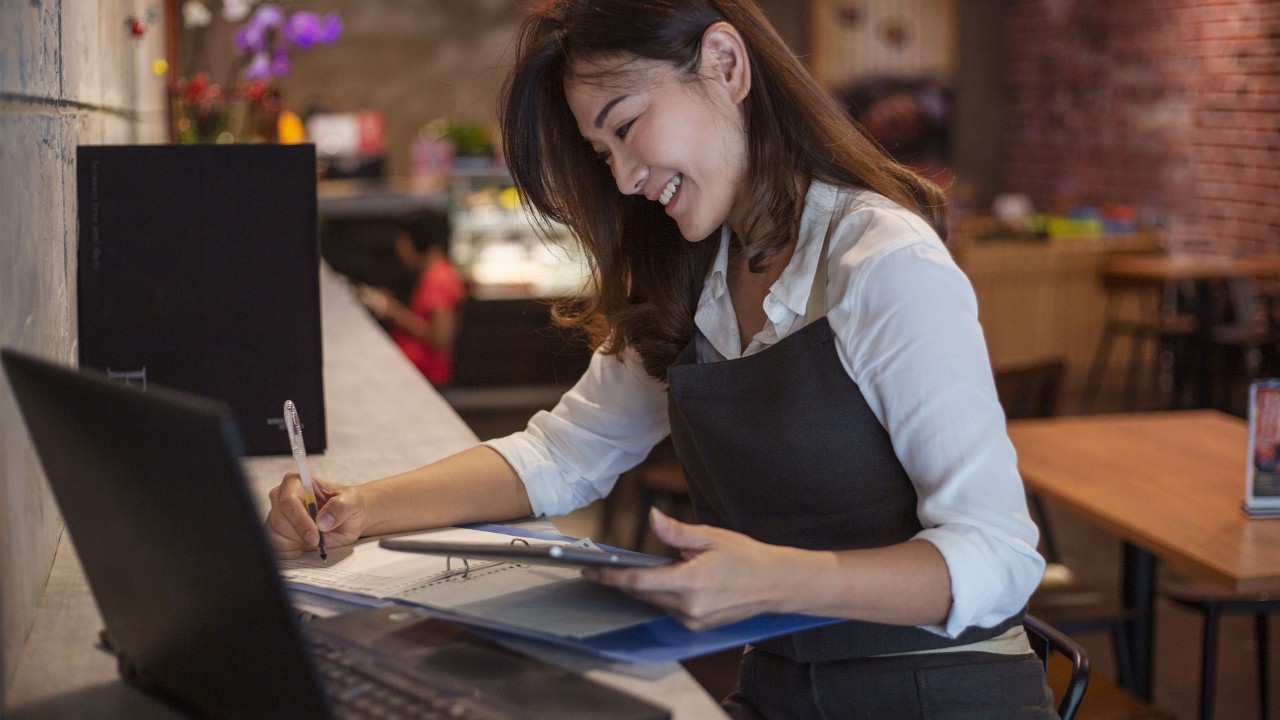 With the onset of the new normal, it is not surprising that consumer sentiments would change. An article from Nielsen that analysed global consumption behaviour2 noted that health, safety, and quality assurance is dominating the present consumer sentiment, and will continue to remain a significant influencing factor moving forward.
Consumers are likely to assess the "value" of their purchases based not solely on the price, but also on whether the products claim to have health defence benefits. The origin of products has become an important deciding factor for consumers as well. There is an increasing preference for local brands as consumers strive to support their communities and boost the country's economy.
With Malaysians adopting similar consumption preferences with regard to health and safety products3 and local purchases4, businesses will need to decide on how they can pivot to stay relevant to their customers and survive in the post-MCO and post-COVID-19 economy. Do they need to appeal to new customer segments? Introduce new products that their current customers are more willing to spend on? Or find more effective promotional channels?
The dramatic digital shift
Aside from changing consumption preferences, COVID-19 has also altered the way people spend. Huge numbers of people have switched from offline purchases to online spending – not just in Malaysia, but across the Southeast Asia region.
An analysis carried out by Bain & Company on 8,600 consumers in six Southeast Asian countries – including Malaysia – found that 47% of consumers decreased offline purchases and 30% increased their online spending.5 Not only that, roughly 83% of those shopping online said that they are likely to continue their increased spending online even after restrictions are lifted. The results from Bain & Company's analysis also revealed the following: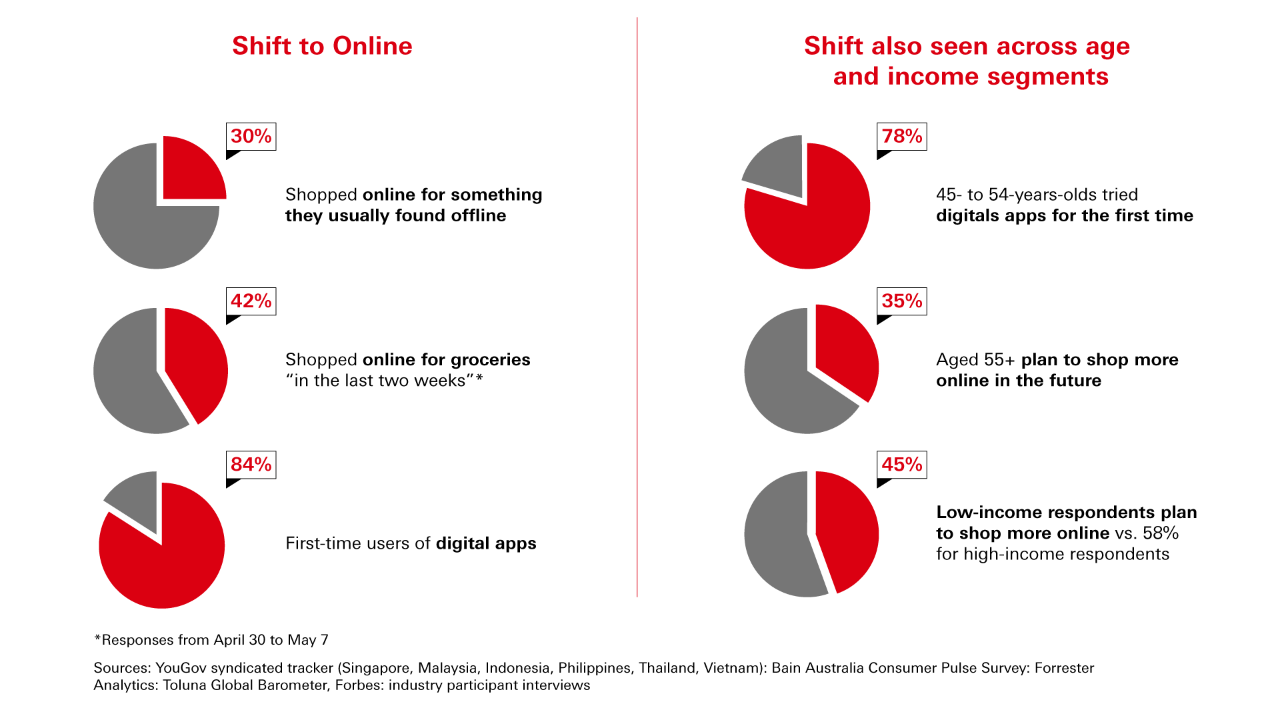 With consumers largely having moved online and likely staying there post-COVID-19, it only makes sense for businesses to digitalise and tap into new opportunities. One step that SMEs and MSMEs can take is to adopt e-commerce solutions to reduce costs, as well as save time and resources.6 Many e-commerce platforms have a ready infrastructure and an available network of users that businesses can instantly tap into for a reasonable fee. This saves them from having to make heavy investments to move their business online.
Aside from digitising their business model with e-commerce solutions, SMEs and MSMEs should also consider implementing cashless payments. Even prior to the onslaught of COVID-19, there was a growing preference for digital payments among Malaysian consumers: 70% of Malaysians surveyed in a 2019 study by Visa said that they favour cashless payments7 for their convenience. COVID-19 and the MCO has only accelerated the process,8 and it has been further spurred on by government initiatives such as the E-Tunai Rakyat9 and ePENJANA programmes.10
From the viewpoint of businesses, digital payments offer various benefits11 as well. Apart from reducing the risk of spreading COVID-19 through physical money, cashless payments can help merchants eliminate the need to hold on to large amounts of cash or make constant bank visits to deposit cash. Businesses will also have a clear record of their cashflow as all transactions are logged, allowing them to better track their finances.
Meanwhile, some businesses may also need to invest in the automation or digitisation of their operations and trade channels – such as upgrading machines and software – for better service, efficiency, and profit. These businesses can tap into ongoing initiatives by the government, such as the SME Digitalisation Grant.12 SME Technology Transformation Grant,13 and Smart Automation Grant.14
Addressing cashflow Needs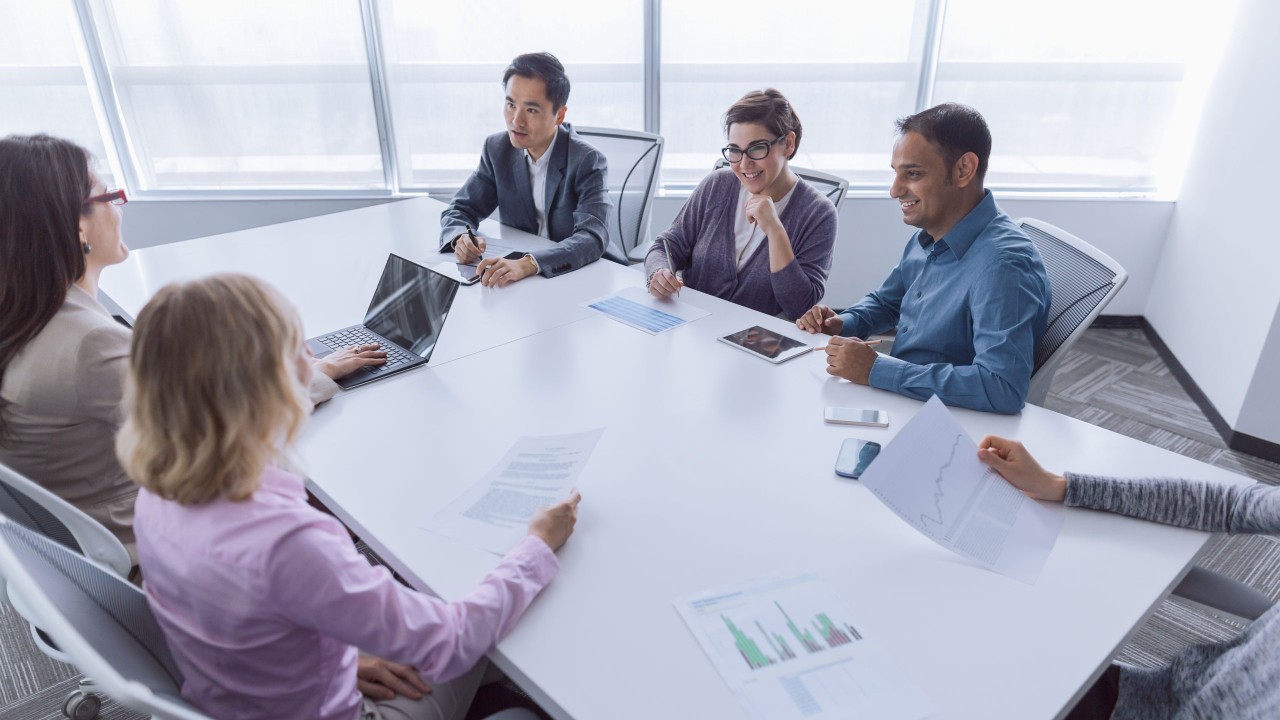 One of the most immediate struggles that SMEs and MSMEs faced during the implementation of MCO was extreme cashflow issues. Within a week of the enforcement of the MCO in March 2020, 70% of SMEs reported a 50% drop15 in business. A subsequent survey16 carried out by the SME Association of Malaysia in late April 2020 indicated that 57% of businesses reported no income during the MCO, while 40% saw their revenue drop by at least half.
Even after the government had lifted various restrictions to introduce a less stringent recovery MCO (RMCO), many enterprises continued to struggle financially. In fact, another study17 by the SME Association of Malaysia in August 2020 said that 22% of the respondents have enough cashflow to last them only a month, whereas 27% and 31% can sustain until November and December 2020, respectively. The remaining 20% are considering closing down their businesses for good within the next six months.
In a bid to help these entities with their finances, Bank Negara Malaysia (BNM) and the government have rolled out several financing initiatives under the PRIHATIN economic stimulus package18 and the PENJANA economic recovery plan.19 To help them get through this challenging period, SMEs and MSMEs can also apply for government funds,20 including PENJANA SME Financing (up to RM500,000 per SME at a subsidised rate of 3.5%) and PENJANA Microfinancing (up to RM50,000 per enterprise at a subsidised rate of 3.5%).As part of supporting the BNM's initiative to support the SMEs, HSBC offers Targeted Relief & Recovery Facility (TRRF) to provide relief and support recovery of eligible SMEs, at subsidized rate of 3.5%, with up to 6 months moratorium on monthly instalment, available from 1 Dec 2020 to 31 Dec 2021, or until fully utilized (whichever comes earlier).
Apart from government funds, businesses can also look to banks for additional financing assistance. With the supports of government related bodies, banks are offering unsecured loan/ financing to SMEs who have viable business to obtain the necessary financing.
While the six-month automatic loan repayment moratorium – which ran from April until September 2020 – has now ended, banks are still ready to extend other forms of loan/financing repayment/payment assistance to borrowers/customers who are truly in need.21 These include flexible repayment/payment options, rescheduling and restructuring (R&R) services, as well as different loans/financings from the banks themselves to meet the varying needs of SMEs. Business owners are urged to reach out to their respective banks to discuss the kind of support that they can get.
Bouncing back from unprecedented challenges as severe as those caused by COVID-19 will not be easy, but with some careful planning and strategic decisions, businesses may not only survive, but also futureproof themselves. Here's to the resilience of our local SME and MSME owners, and that they may come back stronger.
I'm an HSBC Amanah/HSBC Amanah Fusion customer
Disclaimer:
The content above is intended for informational purposes only and should not be treated as business advice.
HSBC does not endorse any recommendations from 3rd parties mentioned in this article.
Source:
1. LSE blogs, The impact of COVID-19 on SME digitalisation in Malaysia, 20 October 2020.
2. Nielsen, Recalibrated Consumption Dynamics In a COVID-19 Altered World, 20 May 2020.
3. Nielsen, Adjusting Assortment is Critical As Malaysian Consumption Dynamics Shift, 2 Sept 2020.
4. Ringgitplus, Government Urges Malaysians To Spend On Local Products To Spur Economy, 21 July 2020.
5. Bain & Company, How COVID-19 Is Changing Southeast Asia's Consumers, 26 June 2020.
6. Kingsley Strategic Institute, Struggle of Malaysian SMEs During the COVID-19 Pandemic, May 2020
7. Ringgitplus, Visa Study: Malaysians Expect to Increase Use Of Cashless Payments, 27 Sept 2020.
8. Bernama, COVID-19 pandemic accelerates adoption of cashless transactions, 11 Aug 2020.
9. Ringgitplus, RM30 e-Tunai Rakyat E-Wallet Initiative: What You Need To Know, 13 Jan 2020.
10. Ringgitplus, RM50 ePenjana Credit Can Be Claimed From 31 July Via Official E-Wallet Partners Boost, Grab, & TNG eWallet, 30 July 2020.
11. HSBC, How Sports Direct is adopting the contactless payments trend, undated.
12. MDEC, Propelling SMEs Into the Digital World, undated.
13. MASTIC, SME Technology Transformation Fund, undated.
14. MDEC, Smart Automation Grant (SAG), undated.
15. LSE blogs, The impact of COVID-19 on SME digitalisation in Malaysia, 20 Oct 2020.
16. FMT, Half of SMEs will downsize, restructure after MCO, says survey, 7 May 2020.
17. The Edge Markets, SMEs still struggling with cash-flow issues, 6 Oct 2020.
18. Ringgitplus, Individuals And Businesses: What COVID-19 Financial Assistance Are You Eligible For?, 8 April 2020.
19. Ringgitplus, PENJANA Economic Recovery Plan: Highlights For Individuals And Businesses, 10 June 2020.
20. BNM, Special Relief Facility for SMEsto meet cash flow needs, undated.
21. Ringgitplus, BNM: Borrowers Affected By Movement Curbs Can Still Seek Help From Banks, 23 Oct 2020.